The Muskoka Chapter was the fourth chapter to open in 2019.
Reaching out via Social Media, Beth Grixti and Courtney Provan were all-in right from the beginning. They were so excited to ripple kindness north.
Do you live in the Mukokda area and are interested in joining ROK Muskoka?
Muskoka Directors
---
Beth Grixti has been a resident in Muskoka her entire life. Over the years she has become more and more involved in community endeavours to improve the quality of life for local residents. Kindness has been the root of Beth's value system as she has given much of her time, and even an organ to help others in need. In 2013, Beth anonymously donated 70% of her liver to a person waiting on the transplant list. She has since become an advocate for organ donation awareness, and has given a TEDx Talk on How Everyone Can Be a Superhero.
Beth also advocates for equity and supports many different local groups with Muskoka Power of Many. She firmly believes that coming together for the good of others is the only way we can overcome the struggles we are facing.
In 2019, Beth discovered Ripple of Kindness through a post shared by a member of the Orillia Chapter. After learning about the incredible work being done, the simplicity, accessibility, and inclusivity of the concept, she immediately wanted to be a part of the Muskoka Chapter. Except it didn't exist… yet!
Beth shared the idea of starting a local chapter with Courtney Provan and without hesitation she was all in, and with that, The Ripple of Kindness had reached Muskoka!
---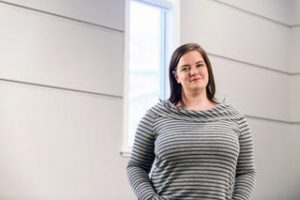 Courtney Provan graduated High School in Bracebridge and after University moved out to BC where she started her first career as a Banker. Moving within BC and then back to Ontario, settling in Toronto, she wasn't really happy with her current career path and an opportunity came up to move back to Muskoka and take time to focus on herself and start a new path. Living in these very different communities, she saw how local groups really made an impact on those they were helping.
Having volunteered for various groups and events, and currently working in the not-for-profit sector, she is delighted to bring Ripple of Kindness to Muskoka and make a positive difference in the community.